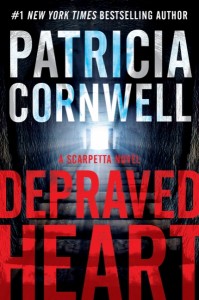 • Hardcover: 480 pages
• Publisher: William Morrow (October 27, 2015)
About Depraved Heart
Dr. Kay Scarpetta is working a suspicious death scene in Cambridge, Massachusetts when an emergency alert sounds on her phone. A video link lands in her text messages and seems to be from her computer genius niece Lucy. But how can it be?
It's clearly a surveillance film of Lucy taken almost twenty years ago. As Scarpetta watches she begins to learn frightening secrets about her niece, whom she has loved and raised like a daughter. That film clip and then others sent soon after raise dangerous legal implications that increasingly isolate Scarpetta and leave her confused, worried, and not knowing where to turn. She doesn't know whom she can tell – not her FBI husband Benton Wesley or her investigative partner Pete Marino. Not even Lucy.
In this new novel, Cornwell launches these unforgettable characters on an intensely psychological odyssey that includes the mysterious death of a Hollywood mogul's daughter, aircraft wreckage on the bottom of the sea in the Bermuda Triangle, a grisly gift left in the back of a crime scene truck, and videos from the past that threaten to destroy Scarpetta's entire world and everyone she loves. The diabolical presence behind what unfolds seems obvious - but strangely, not to the FBI.
Certainly that's the message they send when they raid Lucy's estate and begin building a case that could send her to prison for the rest of her life. In the latest novel in her bestselling series featuring chief medical examiner Dr. Kay Scarpetta, Cornwell will captivate readers with the shocking twists, high-wire tension, and cutting-edge forensic detail that she is famous for, proving yet again why she's the world's #1 bestselling crime writer.
My Thoughts:
I am a die hard fan of Patricia Cornwell and have read just about every book she has written and I have definitely read every Kay Scarpetta book because the series is that good! I love the way Kay is able to look at things and usually she can tell right away that something isn't right. It might take her a little while to figure out what is bugging her about a crime scene or even her family, but in the end, she pretty solves the case.
She has had some really tough ones over the years and her niece Lucy and her husband Benton haven't helped much with their antics. Then there is Pete Marino who at times you want to hate but you can't because he really does care about all of them and does his best to protect them, whether they want him to or not.
This particular story picks up where her last book left off and I was a little dismayed to learn that they still haven't caught that crazy Carrie is still loose at the end of this book also. I sure do hope we can finally put to her bed in the next book because that is one wicked woman! But, it sure does make the book pop and sizzle because nobody seems to know what she is going to do next!
If you haven't read any of the Kay Scarpetta books, I recommend that you do, because it's one of the best around!
Happy Reading!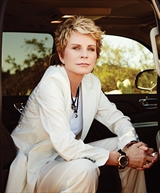 About Patricia Cornwell
Patricia Cornwell is recognized as one of the world's top bestselling crime authors with novels translated into thirty-six languages in more than 120 countries. Her novels have won numerous prestigious awards including the Edgar, the Creasey, the Anthony, the Macavity, and the Prix du Roman d'Aventure. Beyond the Scarpetta series, she has written a definitive book about Jack the Ripper, a biography, and two more fiction series.
Cornwell, a licensed helicopter pilot and scuba diver, actively researches the cutting-edge forensic technologies that inform her work. She was born in Miami, grew up in Montreat, North Carolina, and now lives and works in Boston.
Disclaimer: Mary Bearden personally reviewed these products. I did not receive any monetary compensation for my review, just a sample product. All opinions are mine and belong to me solely. My thoughts and opinions may differ from you.