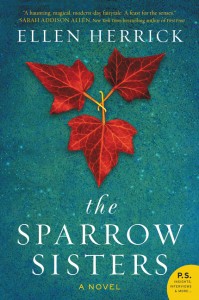 • Paperback: 384 pages
• Publisher: William Morrow Paperbacks (September 1, 2015)
Synopsis:
The Sparrow Sisters are as tightly woven into the New England seaside town of Granite Point as the wild sweet peas that climb the stone walls along the harbor. Sorrel, Nettie, and Patience are as colorful as the beach plums on the dunes and as mysterious as the fog that rolls into town at dusk.
When a new doctor settles into Granite Point, he brings with him a mystery so compelling that town healer Patience is drawn to love him even as she struggles to mend him. But when Patience Sparrow's herbs and tinctures are believed to be implicated in a local tragedy, Granite Point is consumed by a long-buried fear—and its three-hundred-year-old history resurfaces as a modern-day witch hunt threatens. The plants and flowers, fruit trees, and high hedges begin to wither and die, and the entire town begins to fail; fishermen return to the harbor empty-handed, and blight descends on the old elms that line the lanes.
It seems as if Patience and her town are lost until the women of Granite Point band together to save the Sparrows. As they gather, drawing strength from each other, will they be able to turn the tide and return life to Granite Point?
My Thoughts:
At first I wasn't sure if I was going to like this book or not but after reading the first chapter, I knew I was hooked!
They never ever come right out and say that any of the sister's are witches but it is implied because Patience has a way with plants and can make up a wicked cure for just about everything that the residents in Granite Point need. Well, that is until a new doctor comes into town and doesn't like it that a person who isn't a doctor is giving out home remedies that he thinks puts people in danger.
Patience is acting pretty erratic also. She gets flustered every time she see's the doctor or if she is thinking about him or someone is talking about him in her presence. She fights a good fight but then tosses in the towel and decides to go for it! And, low and behold, Henry thinks the same way! He thinks he fell in love the second he saw her but for awhile all he could do is put her down for her home remedies until she helped him with 2 separate issues of his own. Then he had to take a real good look at Patience.

And that's not Patience's only problem. Something is stirring up the townspeople, the same ones she has been tending to and helping! On top of that, she doesn't even get paid a good bit of the time, or if she does, it's in the form of food or something else, but hardly ever money.

Of course, this is also a somewhat of a love story between Henry and Patience, but they sure do make an ornery pair! It's hard to keep up who made who mad to begin with and who reached out to say I'm sorry, let's talk about it some more when I get home.

You will love this somewhat quirky romance book because it's filled with unexpected things and events. I would read the book first before letting a very young teen read it. While no violence is in the book, because you are the one most qualified to know what your teens can handle more than I do.

Happy Reading!
About Ellen Herrick
Ellen Herrick was a publishing professional in New York City until she and her husband moved to London for a brief stint; they returned nearly twenty years later with three children (her own, it must be said). She now divides her time between Cambridge, Massachusetts, and a small town on Cape Cod very much like Granite Point.
I thought this was such a good book to read that I decided to choose one winner to get my paperback copy of The Sparrow Sisters! Open in the Continental U.S. only. Good Luck Everyone!
a Rafflecopter giveaway