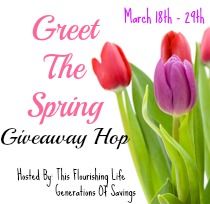 Greet the Spring Giveaway Hop is hosted by:
The Flourishing Life and Generations of Savings
Welcome to Mary's Cup of Tea and the Greet the Spring Giveaway Hop!
All of my wonderful sponsors are listed below with the prize and the dollar value. Each line item is also a link back to the Sponsor Spotlight Review so you can see what you are trying to win and hopefully leave some comments so that the sponsor's get some feedback.
I would love for you to leave a comment so that the next time I ask, we can have them here again. Plus if you leave a comment on all of the sponsor's reviews, you will get extra entries at the end of the RC form.
1.) Sweet Andy's Cookies valued at $35.95
2.) Toilet Tree Professional Cleaning System valued at $39.95
3.) Hard Rock Cafe Tote Bag valued at $18.00
4.) Cosmetique's Set of 3 Makeup Items valued at $55.00
5.) Cirrus Healthcare EarPlane Plugs for Adults & Children valued at $18.00
6.) Paige Dearth's New Book called When Smiles Fade valued at $16.00 (no review, haven't been able to read it yet but she wanted to be in alot of the events so I am doing this w/o reading first. The first book was really awesome so I think this one will be too!)
Grand Total of this package is: $182.90
Please remember to follow the next blogger on the list to enter their fabulous giveaway also!