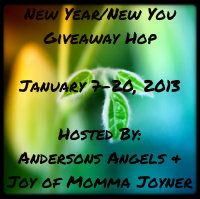 Welcome to the New Year/New You Event hosted by Andersons Angels and
Joy of Momma Joyner
. This Event features a little bit of everything to help you keep those New Goals you set! Each blog has gathered up a unique Prize Package of $25 or more so be sure to visit each blog from the linky below and enter for your chance to win some really amazing prizes!

This event will end on January 20th at 11:59pm EST.
This event will have 2 winner's as a few of my sponsor's wanted 2 winners. The 2nd winner will have a package worth about $135 while the main winner will have a package worth
Each line item that lists the prizes is also a link back to their Sponsor Spotlight Review. If you leave a comment on each of those reviews, you will get to take the Extra Bonus Entries at the end of the RC form. I do double check those, so please leave comments on all of them and not just a few. It is only fair that all the sponsor's get some love back for putting up such awesome prizes plus it makes them want to continue to come back. If they don't come back, then how are you gonna win anything? Sounds reasonable to me. I hope it does to you also! Good Luck!
1.) Soda Stream Starter Set valued at $99.95
2.) Macadamia Hair Set of 3 products valued at $80.96
3.) Harvey Prince Fling Perfume valued at $26.00 (both winner's get one)
4.) Hylunia Beyond Complex C valued at $84.00 (both winner's get one)
5.) Toilet Tree Professional Skin Care System valued at $39.95
6.) Curly Q's Clocks GC valued at $50
7.) Miss Body Butter Gift Package of 3 products valued at $37.97
8.) Miss Udderly Fresh GC valued at $15.00
9. HoneyCat Cosmetics Sweet Potato Pie Bubble Bath/Shower Gel valued at $20.00
10

.) The Unfinished Garden Book valued at $14.95 (both winners get one)

(No sponsor)
11.) Wholly Guacomole Free Product Coupon valued at $5.00

(for 2nd winner) (no sponsor)
12.) Eden Fantsasy GC valued at $80 (this is for 2nd winner only)
Total Value of First Package is $468.78
Total Value of 2nd Package for 2nd winner is $209.95
Both Packages Together Came to $678.73
I wanted to especially Thank all of my readers and sponsors for being so kind and patient with me this past month or so. I have been really sick and still will be seeing a specialist next week to start some new kind of therapy that quite frankly scares me but I wanted to get as many of you as I could in this event and I am gonna try my best to get the rest of you that I owe reviews/giveaways to in the coming week.
I have really pushed myself this weekend to try and not back out of this one like I had to in December. I think I have the best readers and some of the nicest sponsors who have been kind and patient with me.
To the 2 winner's, I truly do hope that you enjoy your prizes as I put alot of thought in this one to make it as awesome as I could. Good Luck Everyone! And have Fun! Don't forget to follow the next blogger on the list.
Disclaimer: Mary Bearden personally reviewed these products. I did not receive any monetary compensation for my review, just a sample product. All opinions are mine and belong to me solely. My thoughts and opinions may differ from yours. Andersons Angels, Joy of Momma Joyner and the New Year/New You bloggers are not responsible for sponsors that fail to fulfill their prizes.