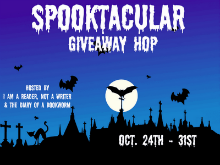 Welcome to Mary's Cup of Tea and the Spooktacular Giveaway Hop that me and hundreds more are hosting! We have brought you some of the most scariest books that we have read and here are the ones that I have chosen for this Halloween, that I am sure will scare you and keep you up at night! I have the links to the book reviews that I did on each one in case you want to know what they are about or to even leave the author a comment on the review.
The Hands of Tarot valued at $11.99
Like A Suicide valued at $12.99
Darkroom valued at $15.99
Total value of all three books are: $40.97
Open to the U.S. only.