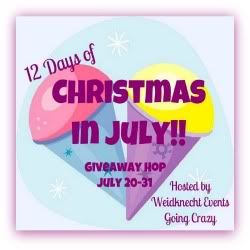 12 Days of Christmas in July Giveaway Hop hosted
by GoingCrazy!! WannaGo??!! and Planet Weidknecht
This giveaway hop is open from July 20th to 31st
Welcome to Mary's Cup of Tea and the 12 Days of Christmas in July Blog Hop Giveaway.
I have some great products for the girls only and some of you will remember some of the products from earlier reviews. Each item listed is actually a blog link back to the Sponsor Spotlight Reviews.
At the end of the RC form you will be given a chance to earn extra bonus entries by leaving comments on all of the sponsor's spotlight reviews. It has to be on all of them, not one or two.
Thanks so much and Good Luck Everyone!
1. Infrashine Curling Iron valued at $220
2. Bioken Tea Tree Shampoo & Conditioner valued at $37.00
3. Katz Donuts & Ruglech valued at $18.47
4. Crane Humidifier valued at $45.99
5. Toilet Tree's Oral Irragator valued at $39.95
6. Original Sprout Trio of Tahitian Luscious Island Products valued at $57.97
7. Bob's Red Mill Gift Card valued at $20.00
8. Purple Passion Bracelet from eBracelets.com valued at $16.95
9. QT Performance Set of 5 Hair Brushes from Flat Iron Experts valued at $80.00
(I just got an email from the sponsor and I had misunderstood. I thought the package of brushes was $16.99 but they are $16.99 a piece with one being higher (the paddle brush). Sorry about that. So that changes the total Grand Prize Amount!)
Total of My Package is $536.33